Spring Cleaning SALE.
March 23, 2018 08:23
Cukui
Take advantage of the largest sale of the year! Now Online and In Store this weekend only. (3/23-3/26/18)
 
For our In-store customers, this is a first come first serve event.
$15 Tees & $40 Sweaters / Outerwear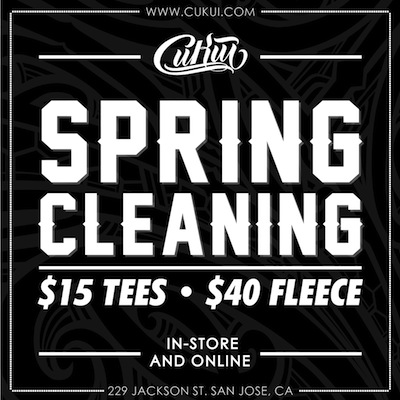 EVENTS
===============================
Cukui
March 10, 2018 - April 10, 2018
This month only! 
Flight of the spirits, artists inspired by Miyzaki. Proceeds from artist sales and cukui merchandise will go directly to Lotus Preschool.
Lotus preschool is a non-profit preschool operated and located at the San Jose Buddhist Church Bestuin. 
Credits: In collaboration with Cukui x Curated by JP Neang.
Artists: Alice Wong, Brandon Dicks, Brian Kistler, Christian Leon Guerrero, Christine Nguyen, Colin Baker, Dora Tsui, Eujung June Kim,
Hannah Deloria, Jerome Lu, JP Neang, Justin Gabaldon, Le Tang, Malisa Suchanya, Martin Hsu,
Naomi Soh, RPHEARTSCROCHET, Tony Bui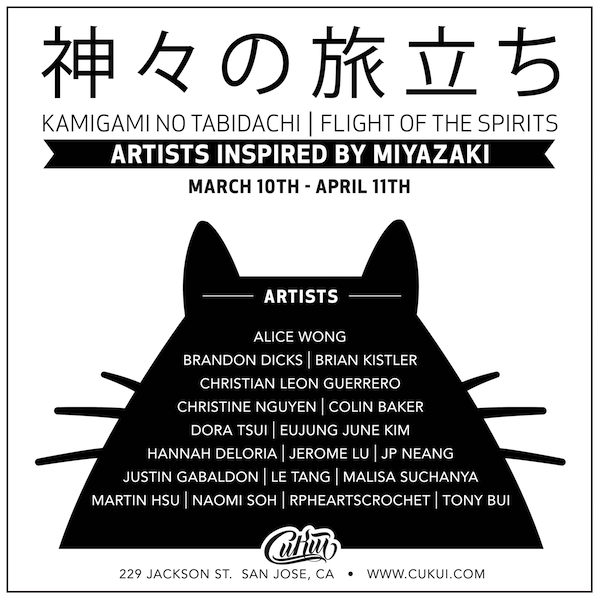 = STAY ROOTED =
Tues-Sat 11-7pm | Sunday 12-5pm